If you can find a sunny day without looming storms hop across Alligator Alley and explore Florida Panther territory on the western fringe of the Everglades. As you likely know, these beautiful cats are endangered so driving carefully is a must. That being said the Big Cypress provides a very unique opportunity to hike, camp and off road where these animals still roam. Though Panther sightings are rare, they are not unprecedented. We have seen them quite a few times on our trips but never have been able to get a picture we can be proud of.
Below is a break down of the access points and accessible trail head options.
Big Cypress National Preserve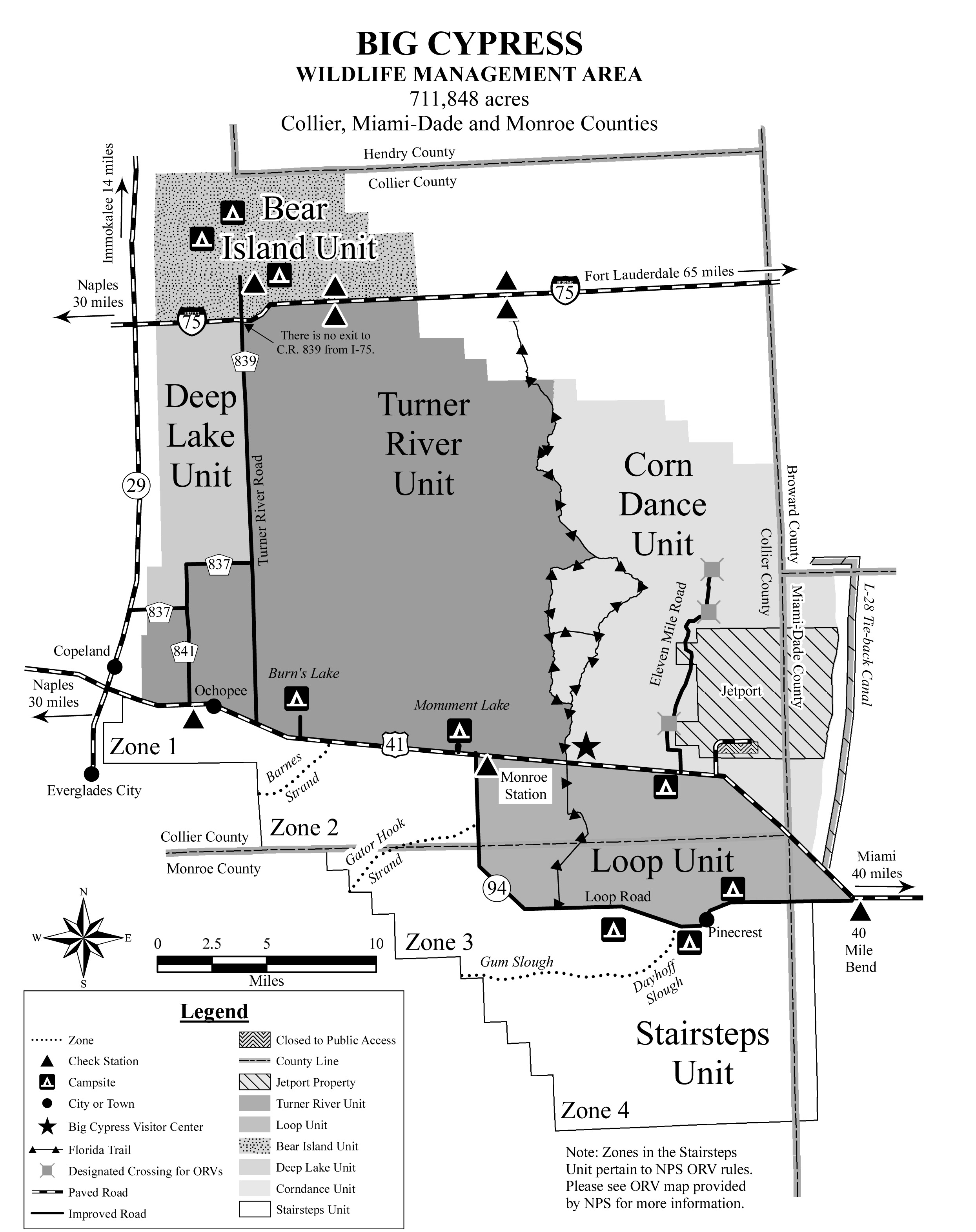 Accessible from Alligator Alley and State Road 29, the 1,200 square mile Big Cypress National Preserve boasts a wide variety of Everglades eco-systems, not the least of which are cypress swamps, a favorite haunt for the panther. For backpackers, there are three primitive campgrounds along these trails.
The first access point is from a parking area at Mile Marker 70 on I-75. At first sight, access appears restricted by the chain-link fence that parallels the highway, but at the rear of the parking area is a gate that opens up to miles of trails for your enjoyment.
A second access point is a few miles up the road on U.S. 29. After you exit I-75 (Exit 80), drive about a mile north on 29 and you'll see a nondescript chain-link gate on the right that opens into a sand lot where you have to leave your vehicle. The trailhead, a park-service road, has a gate that blocks all but refuge vehicles.
The U.S. 29 trailhead is the best access point for overnight backpackers. The hike to the nearest campground, known as Pink Jeep, is just two miles.
If you plan to hike into this backcountry, fill out a backcountry permit and leave it in the box at the gate, and notify friends or family of your plans. (Yes, you can get lost!)
You should also be aware that Bear Island is a popular area for off-road vehicles, swamp buggies and the like, especially on weekends. They take a roundabout route to get here, a bumpy 20-mile park service road that originates on the Tamiami Trail.
Hikers may also want to avoid the area during hunting season.